Crafty Frog's Exciting Sale: Get Ready to Save Big on Fabrics and More!
Author: Laura Date Posted:21 May 2023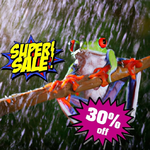 Introduction:
Are you a craft enthusiast looking to stock up on your favourite supplies at unbeatable prices?
Look no further than Crafty Frog's incredible sale!
This highly anticipated event offers a fantastic opportunity to grab high-quality fabrics, yarns, and various other craft essentials at an amazing discount of 30% off the full price.
Read on to discover the details of this sale and how it ties into an exciting new chapter for the store.
A Fresh Start:
Crafty Frog has been a beloved haven for crafters, offering a wide range of materials and tools to ignite creativity, since 1999. However, in February 2022, a period of heavy rains led to some water inundation at the shop.
Since then, I have been tirelessly working ("arguing?") with insurance companies, agents, assessors, and brokers to restore and refurbish the store.
Now, after numerous discussions and with an agreement "in principle," the time seems to be drawing closer for Crafty Frog to undergo a well-deserved makeover.
Refurbishment and Modernization:
Crafty Frog's refurbishment plan not only focuses on restoring the shop but also aims to give it a fresh, modern look.
The store will undergo a complete transformation, including new flooring, ceiling, and insulation. These updates will enhance the overall aesthetic appeal of the shop, creating a visually pleasing environment that's sure to inspire your creative spirit.
The extra areas created will provide a teaching area, and finally, we can start classes again.
Clearance Sale Bonanza:
To facilitate the refurbishment process and minimize costs, Crafty Frog is holding an unmissable clearance sale.
The primary objective is to reduce stock holdings, making it easier and more cost-effective to clear out the main shop area.
By taking advantage of this sale, you not only get fantastic discounts but also actively contribute to the store's renovation progress.
The Sale Details:
Crafty Frog's sale has already commenced, starting with a delightful 30% off discount on fabrics.
However, the savings won't stop there! As the renovation plans solidify, more items will be added to the sale regularly.
To keep track of the latest additions and updates, be sure to visit the dedicated sale page at https://www.craftyfrog.com.au/on-sale/.
The sale will continue until June 30, 2023, giving you ample time to explore the discounted offerings and grab your favourite items before they're gone.
Embracing Change and Keeping You Informed:
As Crafty Frog progresses with the refurbishment project, I understand the importance of keeping our loyal customers informed and engaged in the process.
I will provide regular updates on the renovation's timings, milestones, and any changes that may affect your shopping experience. Crafty Frog values our community and aims to ensure a seamless transition throughout this exciting transformation.
Conclusion:
Crafty Frog's 30% off sale is a golden opportunity to stock up on fabrics, yarns, and other supplies while supporting the store's renovation journey.
Our commitment to quality and passion for customer service has made Crafty Frog a favourite destination for creative souls.
As we embrace change and embark on a revitalization project, we invite you to join us in this exciting new chapter of the store.
Visit the sale page regularly to explore the expanding range of discounted items and keep an eye out for updates on the renovation process.
Get ready to unleash your creativity and take advantage of this incredible sale at Crafty Frog!
---
Leave a comment