Indiecita Baby Suri Silk
Luxurious blend of Baby Suri Alpaca and Mulberry Silk. Sourced in Peru, this Baby Suri alpaca is shorn from the softer areas of the alpaca animal to ensure the ultimate in softness and quality for your knitting.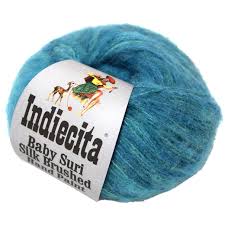 Gloriously soft, silky and light blend of baby Suri Alpaca and Mulberry silk. Needle size between 3.00 - 6.00mm.
: 3 Ply
: 25g
: 150m
: 74% Baby Suri Alpaca, 26% Mulberry Silk
: Hand Wash
: Peru
---